Guardians

Celtic Cat Publishing is pleased to announce the release of the debut collection of poems by Knoxville, Tennessee author Laura Still.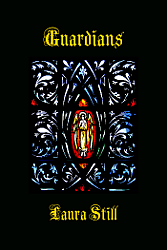 For most of us, life is a journey guided by knowledge but dependent on faith when understanding fails to shed light in darkness. Guardians is Laura's personal journey, but I will accompany her often as I recognize the 'scarcity of moments,' the need to 'rekindle my faith,' and look for 'windows of grace.'
Advance Praise:
"Many of these poems read like praise song, whether describing childhood's lost landscape, Paris at twilight, or carrying a stone into the labyrinth. Like a labyrinth and the many rivers that course through it, this collection reads like a journey, a joyful and heartfelt seeking toward a deeper emotional and spiritual connection in the human as well as heavenly realm."

—Judy Loest
"Generous, accessible, and unaffected, these poems are little phoenixes like the fireweed in the poem by that name. Each one of them celebrates the spirit's victory—art's victory —over loss and sorrow. Each object, moment, and event is wrapped tenderly in the lyrical weave of redemptive song."

—Marilyn Kallet.
"Laura Still's debut collection of poems shimmers like a painting; her word canvas is color-driven with themes of light and shadow that contour a sense of wonder and mystery. Animals and minerals, trees and plants, fire, air, water, earth—these are the elements Still offers as an open prayer, "small graces" that remind us that "we find our best strength / when brought to our knees." In this journey we ride "the river of words forgotten" as the poet searches for love, for spirituality, for miracles of resurrection amid loss and destruction. Guardians is a "gracious fire" of words and images."

—Marianne Worthington

"This is a beautiful gathering of poems. They lift the heart and eyes to numinous windows lit with voice, spirit, grace."

—Don Williams
Celtic Cat Publishing
2654 Wild Fern Lane
Knoxville TN 37931
Phone: 865-693-7678
Email: celtic01@comcast.net